Seven questions with Roxana Condurache
The actress Roxana Condurache shares her responses to seven thought-provoking questions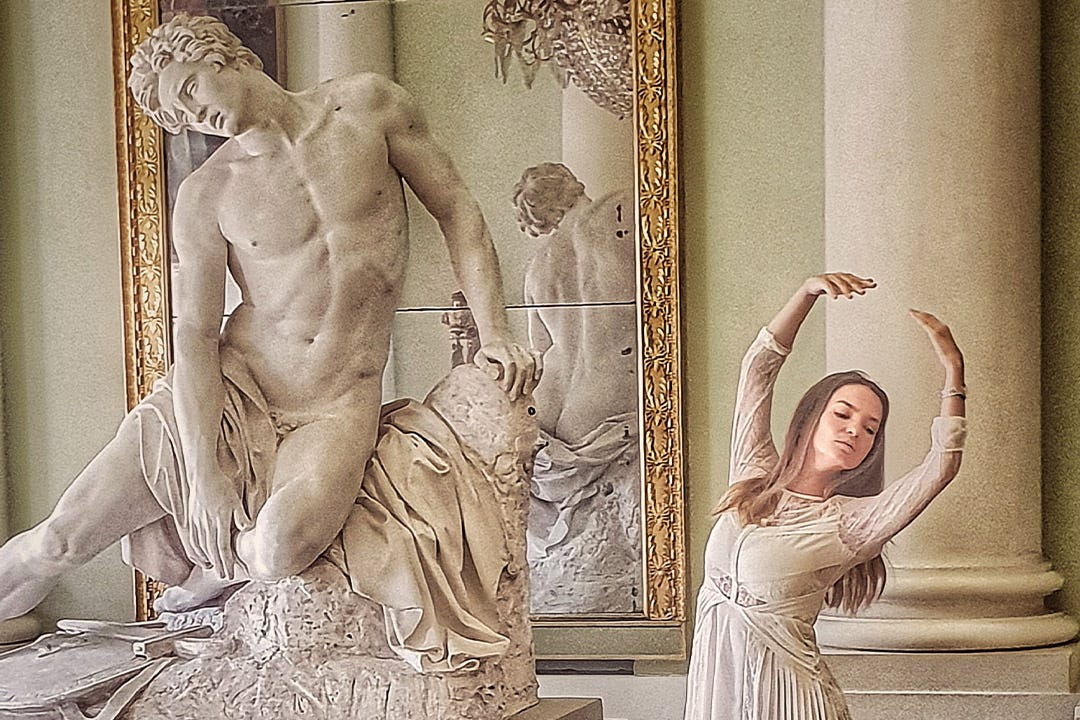 It's been some time since I've posted one of my 'seven questions' interviews. I'm delighted to have a new interview to share now though.
This interview is with the actress Roxana Condurache. Roxana grew up in Iasi, Romania, before leaving home to pursue her acting dream in Bucharest. She has since starred in various film, TV, and theatre productions.
As with all these interviews, I hope you'll come away with some nugget of wisdom or inspiration that might trigger an awakening to your own life.
1. What's a book you've read – recently or otherwise – that has significantly affected how you see the world?
Man's Search For Meaning, Viktor Frankl. In this book, Viktor Frankl describes his journey to find the purpose of life – even in its worst and most horrific moments. The book follows his experience in the Nazi concentration camps.
His struggle to survive became an inspiration to me and taught me that happiness cannot be an objective in life. Happiness comes from the steps you take every single day in achieving a major purpose in your life.
This book stresses out the importance of love and human connection. Even though he didn't know whether his wife was alive or dead in the women's concentration camp, only thinking of her and their love gave him strength and courage to try harder to survive, in the hope that they will someday meet again.
2. What's the biggest challenge or obstacle you've had to overcome in getting to where you are today?
I think the biggest challenge was to leave my home town, Iași, where my family and all my friends lived, in order to fulfil my dream of becoming an actress. I had to move to the capital of Romania, Bucharest, and start everything from scratch.
It wasn't easy to start life in a big city, study acting without ever haven taken an acting class, and taking my life in my own hands, by myself. But I think that this whole experience gave me strength and made me the artist I am today.
If I had to start again, I wouldn't change a thing. I think that the more you go out of your comfort zone, the more you discover about yourself and evolve as a person.
3. What aspect of your job is the most interesting?
Acting is about knowing yourself and understanding others. It's about empathy and relationships, about giving without expecting something in return. When you are in front of a camera, or on stage, you let others see inside your deepest self, with all your good and bad sides. The public will know, will feel, if you are honest or not.
In the theatre, they can feel your energy live, in movies, they see it in your eyes, in every small gesture that you do. And it is not easy to show yourself like this in front of the world. It costs a lot. And it's tiring.
In the end, the purpose is to make the public feel awake, alive, daring, changed. Your responsibility is to change something in every person from the audience, so than when they go home, a thought, a feeling that you provoked, remains with him. Even if it is only for one glimpse of time.
4. What's a goal or dream you have that you haven't pursued yet?
One of my dreams is to travel the world, make documentaries about different cultures, and write a book about my experience.
5. What cause or issue are you personally passionate about at the moment?
At the moment, I am working on popularising Science for children. Me and my best friend Andreea Stoica, also an actresss, partnered up in pursuing this dream. She is the Master Franchisee in Romania for the education franchise Nutty Scientist, which here is called Fun Science.
We develop events for kids where they can play and discover different fields of Science in a very entertaining way.
6. What do you do when you're in need of joy, peace, calm, or focus?
I like to travel. If I don't have time for a big trip, a short visit to the mountains is great for me.
Also, I like to read and write, listen to music, dance, sing or watch movies. Writing helps me clear my head and concentrate better on what I want to do further in my life.
7. What's something that costs £20 ($25) or less that you think everyone should get?
A journal or a notebook where they can write their dreams, goals, objectives and even plan step by step how to achieve them.
---
Stay connected with Roxana
If you'd like to connect with Roxana, you can do so via her website, or on Facebook.
You can also read a feature article about Roxana, and a previous interview:
---